As new writers, the number one piece of advice we hear is to get your butt in chair and keep it there. Great advice, but what if we get our butt in the chair, but the words don't want to come? There's nothing more frustrating than fighting to get the words down. If you'r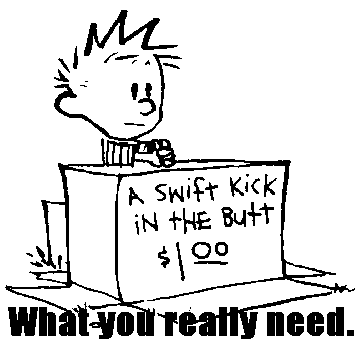 e like me, sometimes, we need an extra kick in the butt! We're not the only ones, which is why people have come up with some inventive ways to get words on the page.
Write or Die is a popular tool for writers who need that extra push. They have a web application as well as one you can download for your ipad. Everything is configurable, you can decide your word goal, time goal and preferred punishment. For those who could use the pressure, or a little negative reinforcement, Write or Die is great. There are different consequences you can choose if you don't do your writing.
Gentle Mode: A certain amount of time after you stop writing, a box will pop up, gently reminding you to continue writing.
Normal Mode: If you persistently avoid writing, you will be played a most unpleasant sound. The sound will stop if and only if you continue to write.
Kamikaze Mode: Keep Writing or Your Work Will Unwrite Itself
 If you're after something a little softer and fluffier, check out Written Kitten I've used it to help get words down because it's absolutely adorable. You can set the number of new words you need to produce before you get a new kitten, 100, 200, 500 or 1000. When you hit that number, surprise! A new, incredibly cute kitten picture appears. Who can resist that?
If you are on Twitter, Jane Espenson does Writing Sprints. She announces she is going to do a writing sprint and invites anyone to join in. She sets a starting and finishing time and the rules are, no distractions, you're only allowed to write during that time. After it's over, you check back in to Twitter and report how it went. You can follow her on twitter @JaneEspenson.
If you're not looking for software or a website to help you out, Mary Robinette Kowal uses a forty-five minute sand timer during her writing sessions. While that sand is running, she has to be writing. When it stops, she can, but until then, no distractions, no breaks.
I also rely heavily on threats of friends. What? It works. If I need to, I'll go on twitter and tell people to kick my butt so I start writing and you'd be surprised how many jump at the chance to tweet me back. If peer pressure works, having a group to be accountable to or to write with is also a great way to get words on the page.
You can't be a writer if you're not writing. I'm sure there are other useful tools out there to help. If you have any more please share them with us!