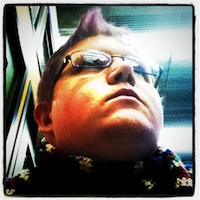 Adam Israel was born with one foot on the road and a books weighing down his pockets. He's lived in Chicago, New York, and Los Angeles but is now expatriated to Ontario, Canada with his wife, three dogs, three cats and all the stories from his travels. With his technogypsie lifestyle a thing of the past, he spends his days working as a telecommute software engineer and writes in his spare time.
His fiction has been published online and off, in places such as Crossed Genres, and the anthologies The Crimson Pact 2 and Finding Home: Community in Apocalyptic Worlds. He is currently working on his first novel.
Formerly a tech columnist and journalist for Ars Technica, Adam now focuses on the fantastic. He works for Electric Velocipede and reads slush at Lightspeed Magazines, is a graduate of the 2007 James Gunn and 2010 Clarion Writers Workshops, and is a staff writer at the Inkpunks and BookLifeNow group blogs. He is also the Communications Director for the Clarion Foundation blog.
 He can be found at http://www.adamisrael.com and on Twitter @adamisrael. But mostly on Twitter.