So you're a writer. And you know writers. And you have to buy them gifts. Don't worry: we've got you covered. There's something for every kind of word-wrangler on our list, and even something for the normals. You do know people who aren't writers, right? Hmmn. Maybe you should add that to your New Year's Resolutions.
For the sophisticate:
You know the one—her stories all have those amazing metaphors that you're not quite sure you get, or maybe it's that guy whose newest book reads like the illicit love child of House of Leaves and something by Murikami. They're classy and smart, and they'd be delighted by any of these delicious tasting sets from Master of Malts. If your budget allows, you might consider getting one for yourself.
For the dedicated horror writer:
Do I even need to tell you about Leslie Klinger's The New Annotated H. P. Lovecraft? I'm sure you've already heard the hub-hub about this delightful new compilation—well, so has your friend who's working on that great horror novel. They're probably pining for the darn thing right now. Go help them out!
For the serious fantasist:
I admit: I haven't seen this movie yet. But it's by Toby Froud and Heather Henson, and it's Froud-y puppetry in the finest spirit of Froudian production. Watching Lessons Learned is going to be a fun experience, and your fantasy-writing friend will enjoy falling into the sweet nostalgia of the puppets of their youth.
For the intense science fiction writer:
Everyone can use a mug, and the odds are good that if you're writing hard science fiction, you're probably going to need some caffeine. Here' s a cute constellation mug that will hold their favorite tasty beverage and inspire them to keep their eyes on the sky!
If you are a science fiction type, looking for a little inspiration, here's a little treat for yourself: these FREE wallpapers based on Daniel Dociu's awesome cover for James S. A. Corey's novel Abaddon's Gate.
For the S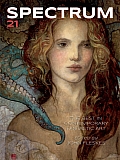 F/F/H writer looking for inspiration:
Any of the Spectrum Art books are going to rock that person's world, because they're filled with work from the best artists working in science fiction, fantasy, and horror today. I especially recommend Spectrum 20 and Spectrum 21, because our very own Galen Dara has pieces in them.
For the writer who needs a kick in the butt:
Every time they put on this Write Like a Motherfucker tee, they will feel your foot connecting with their bum. Consider yourself a muse.
Your editor:
Chances are that the editors in your world are tense. After all, editors live at the junction of two very weird worlds: the business world (where everyone wonders just how they're going to make money) and the art world (where everyone wonders how they can get people to feeeeeel). You might consider a yoga DVD, such as this one for stress reduction, or maybe an anxiety-reducing aromatherapy spray for their office.
And what about those normal people? What should you get them?
Easy.
Get them pizza. Because what the people in your life really want is more time with you. So take them out for a good time—or heck, have dinner delivered—and enjoy the moment.