Mary Kowal at her standing desk. Photo by Marcia Glover (c) 2011.

There's a strange contagion spreading throughout the SF writing community. What is this pernicious pestilence that has infected inkpunks? Is it perhaps knocking at your door in a brown uniform bearing giant, back-straining Amazon packages? Remy, you say, we read the fucking post title. Get on with the standing desks already, you say. Very well, I shall get on.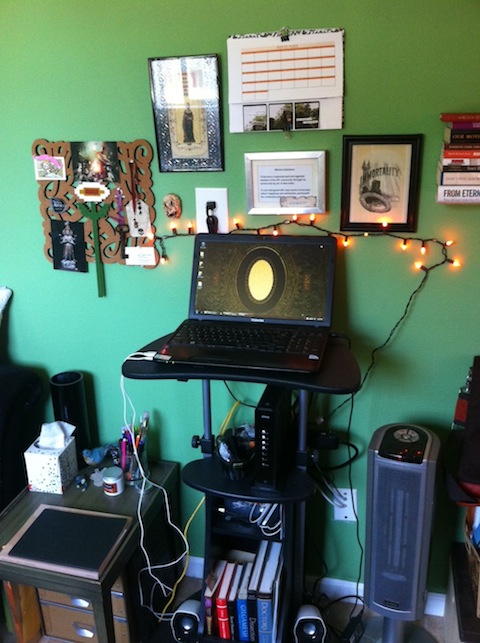 Christie's colorful and small footprint standing desk arrangement

Christie's home office set up includes a standing desk and a seated desk, and she spends roughly half time at each. This particular standing desk doesn't have much room for mouse movement, so she uses the following seated arrangement when she works with graphics.
When Christie started using her standing desk she felt a lot of pain in her hips, but she is now able to stand for six hours per day without discomfort. She definitely recommends easing into a standing routine, either by gradually building up or alternating hourly between seated and standing.
If you're interested in the details of Christie's set up, she's using this desk, with this anti-fatigue mat, and she recommends a good pair of shoes, like these.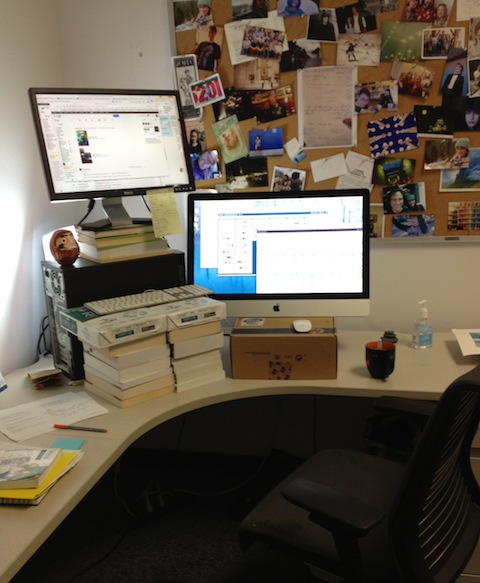 Remy's combined seated and standing set up
I've been using my standing desk for several months now. The details of my standing set up: my keyboard is supported by two reams of paper and a bunch of database/programming books (which are thick and expensive and go obsolete quickly, so it's great to find a second life for them outside of recycling), my monitor by an old desktop PC, and my mouse pad is an old netbook packing box. And like Christie, I find that shoes make a huge difference in how long I can stand. I swapped out my cons for a pair of old running shoes.
I like my set up because it's cheap and easy to adjust (add or remove another two books, swap the shoe box for a netbook box, etc.), and it's easy for me to switch to a seated arrangement by moving the keyboard and the mouse box and switching primary monitor. The biggest drawback to this arrangement is that it limits the effectiveness of having two monitors. And maybe that it's not very earthquake-friendly…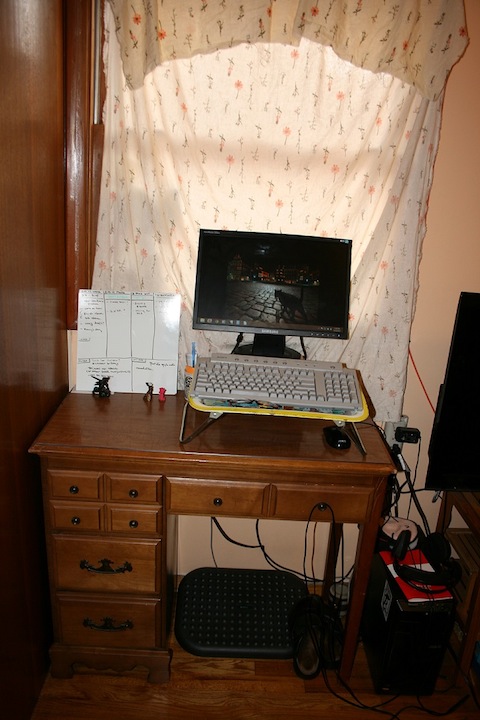 Not pictured: the three unnamed fantasy books supporting the monitor

Wendy wins the lowest price DiY standing desk award: $1 for a folding bed tray, purchased at Goodwill, repurposed as a keyboard stand! She's on her feet for most of the day, taking a break in the afternoons.
Like many folks who make the switch, Wendy credits her standing with health benefits: she no longer feels the considerable shoulder and neck pain she experienced prior to using her standing desk. Christie feels less fatigued. Others that I spoke with also attribute similar effects to their switch: less back pain, more energy, and better emotional health.
The main benefit that I can observe: I can stand longer. This is a big deal for me, since standing for as little as ten minutes on a hard surface was a painful experience before I started (my daily stand up meetings at work used to be an ordeal, and I leaned on things a lot). Now I'm able to stand for hours at a time, with only some minor back fatigue or soreness–a huge improvement from the past.
Erika is trying out the standing desk now, improvising with a box of paper and a short bookcase. She said that she keeps a chair handy so that she can stand "Captain Morgan style" on occasion. I had to look this up:
Inkpunks does not endorse Captain Morgan Spiced Rum. Though some members privately endorse Kraken. And drinking responsibly.
So I think this means that Erika wears a pirate hat, a cape and a sword to her standing desk. I'll allow her to clarify.
Sandra claims that standing desks can eliminate concerns about chair theft by cats. But she may not have read this "goosed by cats" post by Mary Kowal. Cats once again show their ability to adapt to new circumstance more quickly than their human charges.
I'll close this post with a few standing desk arrangements from friends:
Andrew Williams also improvised his standing desk arrangement. He switches between standing and seated, noting that "different configurations actually seem suited for different tasks and different headspaces."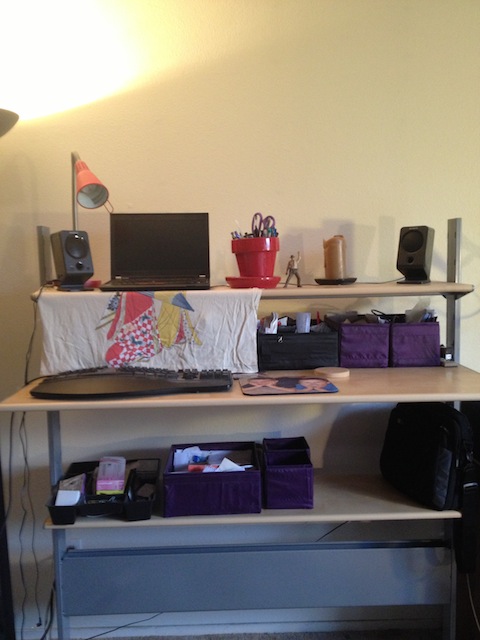 Maggie Croft says that "working at a sitting desk was bothering my back. A standing desk [is] much better for my back, my general physicality and I feel better emotionally."
Just to show that there are as many approaches to standing desks as there are writers, Liz Argall decided to work her calves and thighs by standing at her desk in roller skates. I dare any of you to top that!
Finally, Elizabeth Mock has an excellent review (including video of her installation) of the Ninja Standing Desk on her blog.
If you've got a standing desk, please let us know how it's been for you. Better yet, share pictures of your set up!
Also, I'd love to hear from those of you who've tried and chosen not to continue with it. What did you find problematic about the stand up desk experience?