No one can tell me how to be me. The same goes for being a writer. Yet, I can't help myself. The internet is full of mostly well-intentioned advice on writing — forums, essays, lists, and opinionated rant — and I soak it up. Chuck Wendig's blog, one of my current favorites, is full of fun little lists of advice aimed at writers. It's all too easy to choke on the stream when you're drinking from a fire hose, though. I could spend my entire day reading other people's take on rules and processes and neglect my own projects, if I didn't put some filters in place.
Rules themselves aren't necessarily bad. Some people are contrarians and make a point to avoid them but the truth is, rules are rules for a reason. These are things that have been done so poorly over time that someone arrived at a simple conclusion to fix a widespread problem and the publishing community said, "Yes, that." As generalities go, they can be useful for filtering out a lot of noise.
I can't tell you how many times I've heard someone say that "You have to know the rules before you can break them." What's that mean, exactly? Well, it's part of the internalization process but that's still vague.
I think about that in terms of the old lawn mower engine I used to tinker with when I was a teen. At first, I knew nothing about it other than where to put the gas. When it wouldn't start, my dad explained the carburetor, about ignition, combustion, and airflow. He handed me a screwdriver and showed me how to wedge open the choke and get the engine started. I understood a rule; I could tell you why restricted airflow would prevent the lawn mower from starting and I could follow the rule and make it run it but I was far from being able to build my own engine.
Rules try to quantify problematic story traits into simplistic, cautionary terms. What they don't always do is give us the context behind them. That's left up to us to figure out. I know I've internalized something when I can tell it to someone else without stumbling over the explanation. I put together a shiny little flowchart that kind of breaks down my process: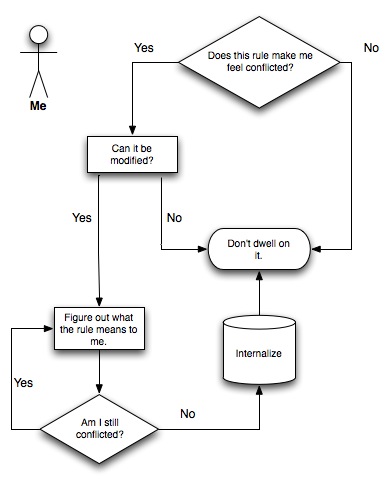 I try to take each piece of advice as if I'm chewing on a piece of salt the size of a jawbreaker, even if it comes from my childhood hero or my best friends. No one is trying to mislead me, but everyone approaches these problems from their own experiences. Rules that work for everyone, like absolute, are suspect at best.
The most famous (and infuriatingly vague) rule might be "Show, don't tell." What that really means, to me, is choosing which details you reveal to the reader, and how, carefully. I don't need to spend a paragraph emphasizing the ticking of a clock, for example, if it doesn't have any relevance to the story other than, perhaps, to set mood. It's a balancing of importance.
"Write what you know" is another one that has always bothered me. I've never been an airship pirate, nor have I been a 1920's superhero but that hasn't stopped me from writing about them. So what does that really mean? What I do know — life experience. I've known anguish and heartbreak. I've seen people self-destruct through inaction and apathy, or rise to new heights through personal revelation. What I know is the life I've lived and ultimately story comes down to the people who populate it.
Every writer has leeway to interpret the rules their own way. How we write defines our voice. That variety is what makes literature exciting and worth reading. Can you imagine the horrible boringness if every writers voice were the same — if someone like Catherynne Valente (whose written voice is amazing) were indistinguishable from any other writer? That would be a fucking criminal and should emphasis the importance of making these bits of wisdom your own.
Finding your voice is your internalization of the so-called rules. And when you're done, motherfucking own those rules and write.