At the Rainforest Writer's Retreat, there was a friendly competition to see who who could win the highest word count (for my session, it was Keffy, who did most of a NaNoWriMo in 3.5 days). I, on the other hand, was putting down more calories (in the form of brownies and cake baked each day by other attendees) than words. Discouraged, I decided to procrastinate plan ahead by getting a handle on all of my short story projects. I was surprised at how much this encouraging this simple act was, and wanted to share the process with you.
I repurposed the kanban-style of software project management to help me stay on top of my short stories. Kanban is a simple system that helps me do three things with my writing queue:
Visualize the work that I have to do.
Keep the stories flowing from ideation to publication.
Focus on the most important task at hand.
I used a website called kanbanpad to post each of my stories like notecards on a bulletin board. You can see a thumbnail of my project board below: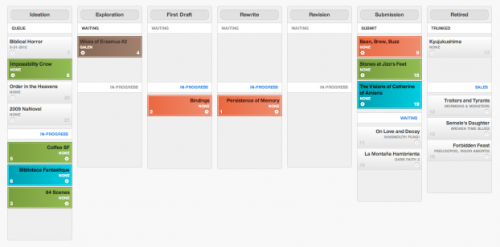 I use colors to help draw my attention to some stories (orange is for my top priorities, brown is a collaboration, or represents a story being critiqued) and also to prettify the kanban board.
The columns reflect my creative process, and reinforce what work I need to do at each step. Only one or two are concerned with word count. From left to right, they are:
Ideation: My work here is to *actively* think about a story idea. Before I step in the shower or out for a long bike rides, I pick a story and start thinking about it. For NaNoWriMo a couple of years back, I used my morning hour of biking to work through the previous day's plot, character and voice problems. Sometimes this can also include library research or hours on tumblr…
Exploration: The work here is hard to capture, but it's where I start putting the literal or metaphorical pen to the paper: I write plot synopses and my first throwaway paragraphs/scenes. Discovering the narrative voice is the hardest thing for me to do, and I have to write and delete over and over again. But once I find the voice, I'm ready for the next step.
First Draft: Finally, word count!
Rewrite: I hate this phase. I write slowly, and produce relatively clean first drafts, and really want to just kick them out the door at that point. I'm currently rewriting half of a story because I decided one of the two narratives was too bland. (I would actually love to hear what you all do for your rewrites.)
Revision: This is the final clean up, usually after receiving close critique.
Submission: If a story is in this queue, I need to send it out!
Retired: This column is reserved for trunked stories and sales. Even though there's no real work to do here, I keep this column visible so that I can see my goal for each story.
Basically, this exercise helped me get over my discouragement over my low word count, and to find value in that the hours I spent: 1) in exploration for Bindings, working out plot problems, and 2) revising Persistence of Memory. These didn't generate words, but they moved those two stories closer towards the right side of the board, and towards hopeful publication.
I present it to you all in the hopes that one or two of you find it helpful. If you have a different way of visualizing your process, please feel free to share the links below.