Recently I went to LA to go on an art date with some friends. We went to this show:
In Wonderland: The Surrealist Adventures of Women Artists in Mexico and The United States.
(More about the exhibit at the LA Times, the Huffington Post, and by our own Andrew Penn-Romine.)
It was an amazing, thought provoking exhibit. It made me want to stretch a canvas and fill it with stuffs from the deep things buried in my psyche. (Been a while since I've done that.)
My job as an illustrator is often to work with someone else's creation. I work with writers and editors and create a visual image to accompany a story, an essay, a poem. This is an amazing privilege; highly satisfying creative work that is constantly challenging me. But it's not quite the same thing as working out my own ideas. (To try and parse out the difference between working with someone else's creation vs making your own is complicated and nuanced. You really should check out Amy Sundberg's discussion on that topic). Sometimes, I envy my writer friends. Here's the image: writer sitting in front of a blank page, digging down deep in their souls to find that seed. They collect their inspirations, do their research, then make their own little creation sprout all over that blank page. What occurred to me while exploring In Wonderland was a reminder to make sure I carve out a bit of time for my own creative work. To collect my own inspirations, do my own research, explore my own personal ways of taking that blank page and filling it.
For your viewing pleasure: here are few pieces from the exhibit that tickled me (or sobered me) as embodying aspects of the creative process. Click on each image for a larger view.

Remedios Varo, Creation of the Birds.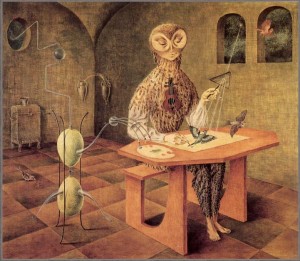 Ta Da! Here is the artist, all dressed up in her owl costume, ready to make something special. She's got cool tools: a peculiar alembic reaches its glass pipes out into the night air to gather essences and distill them into pigments. I can't quite tell from the angle but it looks like her paintbrush is stemming down out of the lute over her heart. Soul music. And starlight: her left hand holds a prism through which the refracted light literally makes the birds she is painting fly off the page, out the window. Except for one bird, that sparrow in the corner, remaining to keep the artist company. The muse is present.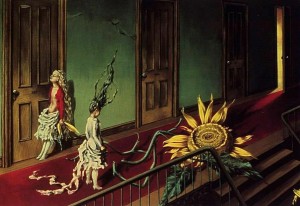 Dorothea Tanning, A Little Night Music.
Anyone else ever metaphorically hunted down dark corridors in the process of bringing a piece life? Spooky corridors with cracked walls. And with large sprawling flowers that should be lovely, but look like they might actually eat you?  Creating art is sometimes a hair raising experience. (Sometimes it is orgasmic.) Occasionally your fancy costume is in peril of disintegrating into threads and tatters. You are in danger of being exposed. Behind one of those ominous closed doors is most hopefully the solution to the piece you are working on. But that's one helluva big dangerous flower to be coped with first. The vulnerability of the creative soul.
Frida Kahlo, Sun and Life.
Of all the artists in this show, Kahlo is the one who most routinely and brilliantly tapped into her pain and anguish to make art. This painting, with all its sprouting things, its fecundity lushly busting out all over the place under a red-hot life-giving sun… This one is about her loss. Her heart break. What she could not grow.  This is Kahlo turning pain and loss and obsession into art.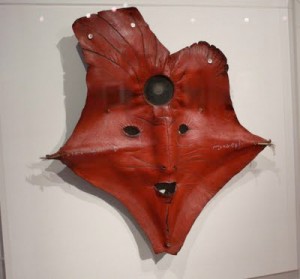 Leonora Carrington, Red Mask.
Most of Carrington's pieces in the show were paintings. But she also made masks which would show up scattered throughout the photography of fellow surrealist Kati Horna. This one was displayed all on it's own, this large red leathery mask. I like Leonora's paintings more. But this is the piece I spent the most time in front of. See, I think it is her face. (Those are her eye lashes.) Have you heard Niel Gaiman proclaim that writers are not their faces? "…The play-faces come off when the writing begins…" This red mask makes me think think that Leonora took off her play-face, (maybe her costume too) and she is now running round buck nekkid and fearless, making something fucking brilliant.
So there you go, a few things I got from my day with the surrealists. Make time for my own creative work.  Put on my costume. (Or take it off, as the case may be). Get out my magic tools. Don't shy away from dark corridors and abnormally large flowers. Don't be afraid to work through pain and loss. And, at least occasionally, take off my play-face, see what happens.
(Also, go on more art dates, they are good for the soul!)
Okay, time to go make something.