I love when lessons present themselves where you least expect them. Last weekend at Norwescon 34 in SeaTac, I went to see the PYR books presentation by the four-time Hugo Award nominated editorial director, Lou Anders. I attended to see the new covers and hear about the latest books, but it turned into far more.
All eyes were glued to the screen as Lou led a captivated audience through the latest releases from PYR books, presenting the covers and authors. He would then give the premise or "back cover blurb" of the novels. As he took us through novel after novel, it quickly occurred to me I was receiving a rapid fire lesson in exciting and publishable high concepts. It was all I could do not to jump up from my seat and yell, "Eureka!" Here was a succession of great novels, released by an award winning publisher. These are the ideas that get published. These are the premises that draw in a readership.
I could hear and feel how engaged the rest of the audience was with the presentation. It helps that Lou is a fantastic presenter, deserving of being on a stage, but even without the added flare, the books would stand on their own. As the audience ooh'd and aah'd like they were watching a fireworks display, I was taking mental notes for my next novel. What better way to learn than by hearing the "pitches" of novels by a top publisher? These books had new ideas twisted together with old ideas, world building that made people want to know more, cleverly combined genres and conflicts that made you excited to learn what would come of it.
Shadow's Lure by Jon Spunk was one of my favourites. From the PYR catalogue:
In Othir, he was at the top of the food chain. An assassin beyond compare. A dark shadow in the night. But Caim left that life behind when he helped an empress claim her throne. And now his past has come calling again.
Searching for the tr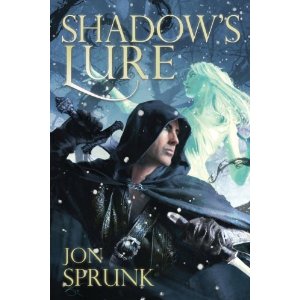 uth behind the murder and disappearance of his parents, Caim discovers a land in thrall to the Shadow. Haunted by temptations from the Other Side, he becomes mired in a war he does not want to fight.
But there are some things a son of the Shadow cannot ignore, and some fights from which he can't run. In this battle, all of Caim's strength and skill won't be enough. For none can resist the Shadow's Lure…
The catalogue doesn't mention the character of Kit, "his imaginary friend when he is a child," Lou said at the presentation. "She never vanishes." Kit can also walk through walls and warn him of danger.
This is what we as novelists (and short story writers) need to learn. Your world needs to be well thought out, not just to impress people with your Dungeon Master skills, but to make it intriguing to the reader. If you're using an old idea, it needs to be spun with something new. Blend genres, but do it in a way that creates a great story. Raise the stakes for not only your main characters but those around them.
As I begin to query one novel, I'm ready to start another. I'm going to begin by coming up with a killer premise. What would I want Lou to stand up and say about my book so the entire room gasps in unison and needs to buy a copy of the book?
Study the back cover of your favourite novels, or study the book catalogues of your favourite publishers. (you can view the PYR Catalogue here) PYR doesn't buy and publish weak books. No one wants to. We need to give them a strong premise, coupled with strong writing. Don't sit idle and think, "I wish I'd thought of that." Use it to motivate you to come up with your own outstanding premise.
What will your big idea be?