I'm no expert on producing novels, but I'm finding ways to survive it, including sharing my pain as therapy for myself, as well as hoping it will help ease the pain for others.
This is only the second novel I've worked on, but I've made it all the way to a fifth draft. I did two drafts before anyone laid eyes on it, then took a few chapters of it to my writing workshop and shared chapters of it with my writing pals. (thanks, Richard and Leanne!) I did another full draft and sent the entire thing out to a round of beta readers, received their input, did a fourth draft. Once that draft was done, I sent it off to yet another set of beta readers and now find myself on the fifth draft.
The fifth draft. It seemed overwhelming. Now how do I fix it, to take it an even higher level? How do I work in the scenes I need to add? How do I round out that character, give this character more stage time and work that brand new character in? All this with the knowledge of how much time I'd already put into this novel weighing down on me and here I was, about to commit more time to it?
Days w

ent by. I'd get out my novel document, my notes, and stare at the screen. Nothing got fixed.
Just as things looked bleakest, like I might never win my battle to polish a fabulous manuscript, I found hope. When we're ready and willing, the teacher will come, as they say and I found my teacher in the form of a blog post on The League of Extraordinary Writers called, "Revising: How To Avoid Staring Into the Black Abyss." Written by Elana Johnson, the blog post opens with these words:
Okay, so imagine you've finished the fifth draft of your amazing NYT bestseller. You've let some time go by. And now you're ready to edit the manuscript. Again. (*Note: for the purposes of this post, editing and revising are synonymous.)

You sit down, open the document, and…proceed to stare into the great black abyss like somehow your MS will edit itself.
This was it! It was as though this blog was written especially for me in my desperate time of authorly need. (I'm pretty sure I heard hallelujah book angels singing). Elana gives ten tips on how to edit, polish and get your manuscript out the door.
Her advice was to print out your entire manuscript and read it from the beginning, marking the pages with line edits, notes on insertions of scenes etc. Then, transfer it from paper to the computer. I'd heard this before, I'd done it for my other novel, but for some reason, I needed to be told it again.
Plus, Elana had a slightly different approach. Tackling the entire novel at once can be a daunting task, so she suggests chunking your manuscript. (note: not chucking your manuscript) She says "It's much easier to wrap your mind around 100 pages rather than 350. So chunk your MS into manageable sections." She split hers up into three parts.
With a jubilant heart, I rushed off to Staples and had my manuscript not only printed, but bound so it would be easier to handle and I could edit on the go. I joyfully read through, marking up the pages with a pink pen (it's friendlier than red!) correcting everything I could find, leaving notes for new scenes and changes. I reached the one third point and was ready to switch to the transfer stage.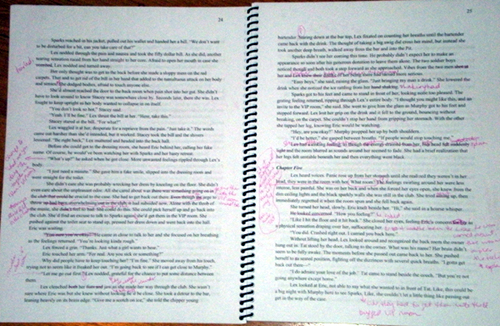 Ugh. Enter the pain. Making all those changes to the actual document proved to be not as much fun as scribbling all over the hard copy. I would describe it as tedious, at best. I kept telling myself with every page I transferred over, my novel was getting better and better.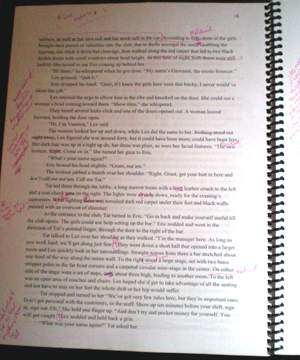 As I write this blog I am now on the second chunk of reading and am back to happily scribbling all over my work. Am I looking forward to transferring this second chunk? Noooooo. But I'll do it. And I'll do the same process to the third chunk of the novel, because I know it's going to mean a better finished product.
For all

of you in various stages of revising your novel, I feel your pain and I wish you all the best. Don't give up! Your hard work and effort WILL all pay off in the end, in the form of a polished manuscript you can be proud of.