Because
It's Friday;
It's New Year's Eve;
It's the last weekend of holidays for some;
'Tis the season; and
I have nothing profound to say on writerly topics just now (okay, mainly for this reason);
below I have collected a few favorite cocktail recipes from Inkpunks and friends.  Enjoy!
Erika Holt, Inkpunk
THE CHRISTMAS COSMO (also known as FRANK'S CHRISTMAS COSMOPOLITAN, I don't know why)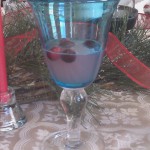 Ingredients
3 oz of Stoli Raspberry Vodka
1 oz of Cointreau
Splash of lemon or lime juice
Splash of Cran-Raspberry Cocktail
Fresh raspberries or cranberries
Crushed candy cane
Mixing
Moisten rim of glass and dip in crushed candy cane.  Mix liquids in a martini shaker with ice and shake.  Strain and serve in a chilled glass. Garnish with raspberries or cranberries.  Serves up to three.
Robert Jackson Bennett, author of Mr. Shivers
For some reason the holidays make my drinking habits take a distinct turn for the grandpa-ish. I usually stick to scotch, to be frank, but when I'm in a cocktail mood I'll often opt for an OLD FASHIONED.
Ingredients
Bourbon, preferably of the tart variety, since we will be adding sweetener
Club soda
Sugar cubes
Maraschino cherries
1 orange slice
Ice
And, last but not least, Angostura bitters. (I was told once by a liquor store clerk that this substance will eat through vinyl countertops. I've never found that to be the case, but it will stain anything, so handle accordingly.)
Mixing
In a highball glass, take 2 sugar cubes and dash them with the bitters. Wait for the bitters to soak through, then crush them with the back of a spoon.   Add 2 maraschino cherries and the slice of orange, and muddle, also with the back of a spoon.  Then add bourbon. You can pretty much pick your level here, but I'd advise around 3-4 oz. Some people suggest adding water to the bourbon, but these people are ridiculous and should be ignored.  Add ice and an equivalent or slightly lesser amount of club soda. Stir, and drink.  It is a straightforward, easy cocktail that's not quite the parade float so many cocktails seem to be these days. I recommend.
Sandra Wickham, Inkpunk
I've never had this, I have to admit, but I love the name and look of it!
SALTY CHIHUAHUA
Ingredients
Coarse salt, (optional)
4 oz tequila, divided
2 oz orange-flavored liqueur, such as Cointreau, divided
3 cups grapefruit juice, divided
4 grapefruit slices, for garnish
Mixing
Wet the rims of 4 glasses and coat with coarse salt (if desired); fill the glasses with ice. Pour 1 ounce tequila and 1/2 ounce liqueur into each. Top each with 3/4 cup grapefruit juice and stir. Garnish with a slice of grapefruit.
Nutrition (of course Sandra included nutritional information!)
Per cocktail: 188 calories; 0 g fat (0 g sat, 0 g mono); 0 mg cholesterol; 23 g carbohydrates; 0 g added sugars; 1 g protein; 0 g fiber; 3 mg sodium; 303 mg potassium.  Nutrition Bonus: Vitamin C (120% daily value), Vitamin A (15% dv).
Andrew Penn Romine, Clarion West Grad and Author
Here's what I've been drinking this Christmas:
THE MANHATTAN (PERFECT)Â –recipe adapted from Gary Regan's The Joy of Mixology
Ingredients
2 oz rye whiskey
1/2 oz sweet vermouth
1/2 oz dry vermouth
Angostura bitters
Brandied or maraschino cherries
Mixing
Stir with ice, strain into a chilled glass. Garnish with a brandied cherry (or optionally a lemon twist). Add a little of the juice from the cherry jar.  I usually don't use maraschino cherries, though that's what I have available to me here visiting family.
John Nakamura Remy, Inkpunk
SHIRUKO or O-SHIRUKO is a Japanese azuki red bean soup with mochi rice cakes, is my favorite [non-alcoholic] New Year's beverage.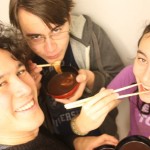 Ingredients
8 small blocks mochi rice cakes
1 lb anko (sweet red bean paste)
1 and 3/4 cup water
Mixing
Mix anko with water in a medium pot and simmer on medium heat. Stop the heat just before it comes to a boil. Grill mochi in the toaster oven until softened. Place grilled mochi into individual soup cups. Pour hot soup over mochi.  Makes 4 servings.
[John also tweeted this priceless, cheesy video on how to prepare ABSINTHE, that I just had to include! watch?v=40k7SkXi3Rc&feature=youtu.be]
Jaym Gates, soon-to-be Inkpunk
Okay, so this is my CURRENT FAVORITE:
Ingredients
Gin (preferably Bombay Sapphire)
1tbsp lemon juice
Simple syrup to taste
Soda or sparkling water
Mixing
Shake until chilled, top off with Perrier or club soda.
Wendy Wagner, Inpunk
A YARHOLE is loaded with yarrrr and yo ho ho.  My brother, a navy lad, began drinking them one night when the barracks vending machine ran out of soda–except for Mountain Dew.  Weirdly enough, this ridiculous beverage tastes just like cream soda, with the added benefit of caffeine and alcohol.  My two favorite chemicals!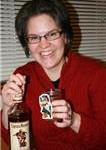 Ingredients
1 oz spiced rum (I prefer Sailor Jerry's but Captain Morgan is fine)
2-3 oz of Mountain Dew
Mixing
Serve over ice. Â Repeat as necessary, or until your body feels plundered. Â Yarr!
Erika Holt, Inkpunk
BONUS DRINK!
The CAESAR was invented in Calgary, my home town, and is extremely popular throughout Canada.  Makes an excellent appetizer cocktail or morning hangover cure.  And it's waaaaay better than a Bloody Mary.  Try it and I'm sure you'll agree!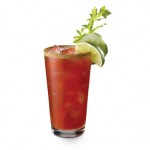 Ingredients
Ice
1.5 oz vodka
Clamato juice
Worchestershire sauce to taste
Hot sauce to taste
Celery salt
Celery stick, green bean, or pickled asparagus spear
Lemon or lime wedge
Mixing
Wet rim of glass and dip in celery salt.  Add ice, vodka, and Clamato, season with worchestershire and hot sauce (usually Tobasco).  Garnish with a celery stick, a cooked green bean, or a pickled asparagus spear (the last is my favorite), and the lemon or lime wedge.
Hope you all have a wonderful New Year's Eve! Â I'd love to hear some of your favorite recipes.