Recently I had the pleasure of attending the book launch of a gentleman from our manuscript workshop. We're all thrilled, since this is David Glenn's first novel publication. It's always exciting when someone you know breaks in and gets their debut novel published after years of pursuing their dream. David knows all about that. He is eighty-eight years young.
Addressing the group gathered for his launch, David tells us, with a familiar twinkle in his eye, that he's been a professional author since the age of ten. He received fifteen shillings for his short story in a contest, then, he says with a grin, there was a 60 year gap. You can't help but laugh with him, David is as charismatic as they come, a former professional musician, stage and screen actor and singer. Wait, there's more. He got his Royal Air Force pilot's wings in 1942 and did "34 missions in Lancasters. From there [he] was seconded to the UK Foreign Office on Political Intelligence and played out the war in London." He also has an accounting degree, has occasionally directed and he's recorded nearly 400 books on tape for the handicapped.
He regularly swims and strength trains and I truly think he'd give me a run for my money for fittest writer in our group.
He kept writing, winning first prize in an international competition, publishing small things in papers and on the net, and he worked on his novels. The great news is, not only did David have one book released, the publisher, FireshipPress, decided to launch the first and second book in the series at the same time. The third in the series will be following, as soon as we help David edit it in class. David jokes with the book launch crowd that he hopes for the series to run for twenty books or more.
I'm not blogging this just because I want to brag about how great David is, as a person and an author. Truly he is an example of living life to its fullest, but he also shows us the importance of never giving up. If writing is your passion, your dream, pursue it. Never quit. I know that's what David would tell each and every one of you, right after he cracked a joke to make you smile and tried to sell you his books.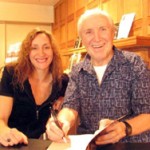 I'd like to pass on a poem to all of you, one that has helped me through many fitness competitions when I was exhausted, discouraged, hungry and ready to give up. It applies just as much to my writing career today as it did to competing, perhaps more. I hope it motivates you, as well.
NEVER QUIT
WHEN THINGS GO WRONG AS THEY SOMETIMES WILL
WHEN THE ROAD YOU'RE TRUDGING ON SEEMS ALL UPHILL
WHEN FUNDS ARE LOW AND DEBTS ARE HIGH
AND YOU WANT TO SMILE BUT YOU HAVE TO SIGH
WHEN CARE IS PRESSING DOWN A BIT
REST IF YOU MUST BUT NEVER QUIT
LIFE IS QUEER WITH ITS TWISTS AND TURNS
AS EVERYONE OF US SOMETIMES LEARNS
AND MANY A FAILURE TURNS ABOUT
WHEN HE MIGHT HAVE WON HAD HE STUCK IT OUT
DON'T GIVE UP, THOUGH THE PACE SEEMS SLOW
YOU MIGHT SUCCEED WITH ANOTHER BLOW
OFTEN THE GOAL IS NEARER THAN
IT SEEMS TO A FAINT AND FALTERING MAN
OFTEN THE STRUGGLER HAS GIVEN UP
WHEN HE MIGHT HAVE CAPTURED THE VICTOR'S CUP
AND HE LEARNED TOO LATE, WHEN THE NIGHT SLIPPED DOWN
HOW CLOSE HE WAS TO THE GOLDEN CROWN
SUCCESS IS FAILURE TURNED INSIDE OUT
THE SILVER TINT OF THE CLOUDS OF DOUBT
AND YOU NEVER CAN TELL HOW CLOSE YOU ARE
IT MAY BE NEAR WHEN IT SEEMS AFAR
SO, STICK TO THE FIGHT WHEN YOU'RE HARDEST HIT
IT'S WHEN THINGS SEEM WORST THAT YOU MUSTN'T QUIT